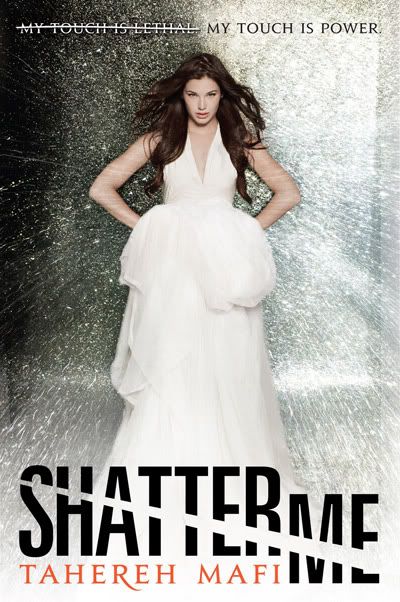 Shatter Me by Tahereh Mafi
Reading Level: Young Adult
Release Date: Available Now
Summary:
Juliette hasn't touched anyone in exactly 264 days. The last time she did, it was an accident, but The Reestablishment locked her up for murder. No one knows why Juliette's touch is fatal. As long as she doesn't hurt anyone else, no one really cares. The world is too busy crumbling to pieces to pay attention to a 17-year-old girl. Diseases are destroying the population, food is hard to find, birds don't fly anymore, and the clouds are the wrong color. The Reestablishment said their way was the only way to fix things, so they threw Juliette in a cell. Now so many people are dead that the survivors are whispering war-- and The Reestablishment has changed its mind. Maybe Juliette is more than a tortured soul stuffed into a poisonous body. Maybe she's exactly what they need right now. Juliette has to make a choice: Be a weapon. Or be a warrior.
My Review:
Breathtakingly written with moments of extraordinary brilliance,
Shatter Me
, rocked me to my emotional core. The raw vulnerability through Juliette's movements and thoughts were built in such a picturesque way that I couldn't help imagining her every emotion.
The concept behind the idea of not being able to touch another human, was heartbreakingly fascinating. This novel definitely brought to light how we take touch for granted. The worst punishment is knowing you can't hug or kiss the ones you love. It's truly a burden that I wouldn't be able to deal with, so I give Juliette props for being such a strong protagonist.
I was flabbergasted at the roller coaster ride she was put on from beginning to end. I was always on the edge of my seat waiting to see how Juliette was going to get away from enemy grounds. In addition, I became thoroughly engrossed in Adam's demeanor towards Juliette. His charming personality and boyish good looks created a romantic atmosphere I couldn't help but swoon over.
Another character that I couldn't help but hate and enjoy at the same time was Warner, a villainous figure that was trying to take advantage of Juliette's uncommon power. I still don't know how to feel about him. He was one evil son of a beep, but he also had some traits that I found quite appealing, despite his unnatural sense of malevolence.
All in all, as a debut writer, Tahereh's skillful text advances her creative longevity in the Young Adult genre. I look forward to seeing her continuing her intense style and how the story will escalate. I recommend you pick this one up if you're looking for a dystopian book filled with concentrated substance.
My Rating:
(4.5)
Book Trailer:
Tahereh Mafi is a girl. She was born in a small city somewhere in Connecticut and currently resides in Orange County, California, where the weather is just a little too perfect for her taste. When unable to find a book, she can be found reading candy wrappers, coupons, and old receipts. Shatter Me is her first novel.
For more info on Tahereh, visit her sites: