"Waiting On" Wednesday is a weekly event, hosted at Breaking the Spine, that spotlights upcoming releases that we're eagerly anticipating.
____________________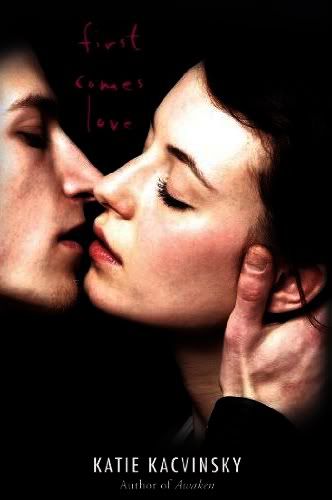 First Comes Love by Katie Kacvinsky
Reading Level: Young Adult
Release Date: May 8, 2012
Publisher: Houghton Mifflin Books for Children
Summary:
Like his name, Gray is dark and stormy. Dylan, a girl always searching for what's next, seemingly unable to settle down, is the exact opposite: full of light and life. On the outside, they seem like an unlikely couple. But looks can be deceiving and besides, opposites attract. What starts as friendship, turns into admiration, respect and caring, until finally these two lone souls find they are truly in love with each other. But staying in love is not as easy as falling in love. If Dylan and Gray want their love to last, they're going to have to work at it. And learn that sometimes love means having to say you're sorry.
My Thoughts:
A guy named Gray? He sounds like trouble, and I like it! Ah, opposites fighting to be together and trying to work it out, sounds pretty romantic. I like these type of stories, so I'm really looking forward to it! And, that cover! So passionate. :)
What are your thoughts on
First Comes Love
?