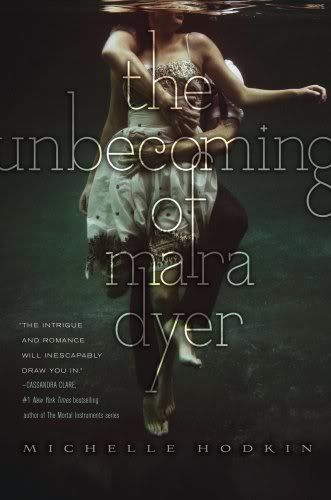 The Unbecoming of Mara Dyer by Michelle Hodkin
Reading Level: Young Adult
Release Date: September 27, 2011
Source: Received from publisher for honest review
Summary:
Mara Dyer doesn't believe life can get any stranger than waking up in a hospital with no memory of how she got there. It can. She believes there must be more to the accident she can't remember that killed her friends and left her strangely unharmed. There is. She doesn't believe that after everything she's been through, she can fall in love. She's wrong.
My Review:
The Unbecoming of Mara Dyer
is a great example of a book that lives up to its publicity. I usually am very curious when it comes to highly recommended books, so when that stunning cover came out, I knew I had to read it. Luckily for me and hopefully other readers who will give it a try, Michelle Hodkin delivered something remarkable. You know I am really into a book when my husband looks at me and says, "Um, don't you have work in the morning?" So, that's always a good sign for sure!
The beginning and middle started out with great strength, while the ending unfortunately started to lose some emphasis on the story line. But, in its defense, the plot started to take a supernatural turn I wasn't expecting. This twist leads me to think that the sequel will be filled with aspects that I usually crave for in YA.
Now, the powerful point throughout the chapters, were the characters. Mara had one of those personalities you couldn't help but not love. She was feisty, opinionated and downright interesting. The progression within herself after her accident was increasingly addictive. I was on the edge of my seat waiting to find out all the answers.
In addition, Noah's presence was just plain delicious. I enjoyed the relationship between the two; their chemistry was undeniably present from the moment they met. He even made me swoon at times, thanks to his smooth lines and good looks. It's been a while since I felt like that for a YA boy, so kudos to you Michelle!
Lastly, the start to this series was phenomenally done. With some tightening in the twist, I can only imagine what I am going to get hit with next. I am really excited to see the development of this story and what happens to Mara and Noah.
Michelle Hodkin grew up in Florida, went to college in New York, and studied law in Michigan. When she isn't writing, she can usually be found prying strange objects from the jaws of one of her three pets. THE UNBECOMING OF MARA DYER is her first novel.
For more info on Michelle, visit her sites: