Blogger Fame is a meme that features a blogger once a week. I currently have a lot of entries, once it clears up, I'll add the link to join again.
Today's celebrity is . . .
Jessica from Jessica's Vision!
1) Jessica, what inspired you to start your blog, Jessica's Vision?
J:
Poetry & Books, I love them both and after really getting back into reading again after movie to Florida and being out of work. I read blood and chocolate which my sister suggested. I loved it! When we moved back to Mississippi and I started working again, I stumbled upon a book blog and got my ah Hah Moment! I also started writing again after that, and began on my attempt at my first book.
2) What's the meaning behind your blog title?
J:
Ah that's a good question well, when I thought of a blog name all I could think was well I'm going to be writing so this is my vision and my blog, so there you go.
3) What is the best and worst part about blogging?
J:
Best by far is the community – the people be hide the blogs. They are amazing and that it definitely helps with my writing. Worst part is by far finding the time to keep up with it all, as a mother of two young girls and a full-time worker. Very hard but I try and I enjoy it.
4) Which is your favorite genre to review?
5) What are your top five favorite books of all time?
J:
Queen of the Damned
,
Blood and Chocolate
,
If I Stay
,
The Giver
, &
City of Bones
6) Who is your favorite author? If you had the chance to meet them, what would you say?
J:
Cassandra Clare – and I met her. Of Course, at the time I hadn't read her books yet. But I had the good sense to buy one and get it signed and I'm so glad I did. I'm sure if I get to see her and I will praise her to the moon and back!
(Eleni: You lucky girl! I love Cassandra Clare's work too!)
7) Do you have any quirks while you write your reviews?
J:
Nope, ha I can write anywhere with anything going on.
8) If you could make a fictional story come alive, which would you pick and why?
J:
Ha
City of Bones
of course, so many characters I love like Jace. Ahhh.... Oh was I day dreaming!
9) Currently, which book cover(s) are you lusting over?
J:
City of Fallen Angels
by Cassandra Clare of course,
Where She Went
by Gayle Forman ,
Possess
by Gretchen McNeil
10) Which type five blogs do you continually visit?
11) If you had to give advice to a newcomer, what would you tell them about blogging?
J:
To just enjoy it, That's what it's all about! It's your blog it's for you and don't worry about how many reviews you post a week. It's all for the love of books and community and getting your message out there whatever it maybe.
Do you consider yourself a book addict?

Somewhat, I would be more of one if I didn't work full-time maybe I'll win the lottery one day and spend the rest of my life as a book-worm ah blissful dreams.

Favorite guilty pleasure

? ..ha Wii and Coors Lights

Favorite bookstore to shop in

? Books A Million

Judge book by cover or summary?

Well I've been guilty of judging it by the cover a few times but I've learned my lesson. I now make sure to read the summary and fall all over the cover as well.

Favorite movie?

Wedding Singer! I'm in love with Adam Sandler

Which book do you recommend we all read?

If I stay for sure. It will bring you down and then all the way back up again!

Describe yourself in three words?

I am cool (ha my husband told me to type that)

Favorite character you'd love to have babies with?

umm.. ha I think I've had enough babies literally and figuratively!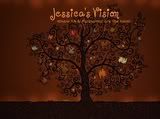 Thank you Jessica for this fun interview!
I love that we have similar tastes in books, Cassandra fans for life! :)
Make sure you visit her blog: