"Waiting On" Wednesday is a weekly event, hosted at Breaking the Spine, that spotlights upcoming releases that we're eagerly anticipating.
____________________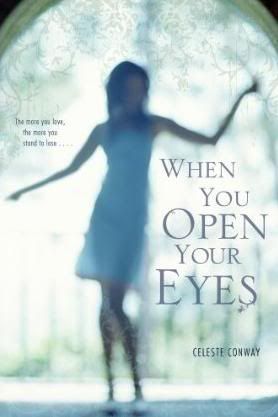 When You Open Your Eyes by Celeste Conway
Reading Level: Young Adult
Release Date: March 20, 2012
Summary:
Tessa is in love with Lucien, the son of a European diplomat. He's French and sexy and artistic. With him, she realizes how naive and American she is, and just how alive she can feel. But Tessa's father forbids her to see Lucien. So they meet in secret, which makes their relationship feel all the more exciting. The harder Tessa falls for Lucien, the more volatile he becomes. Suddenly it's not just their relationship that's breaking the rules—Lucien knows no boundaries. And Tessa must figure out how far she'll go for Lucien…before there is no turning back.
My Thoughts:
Doesn't this sound like a modern day Romeo & Juliet? The summary sounds a bit cliche but it's still pulling me in. I look forward to reading Celeste's novel, too bad I have to wait until 2012. So many awesome books next year!
What are your thoughts on
When You Open Your Eyes
?