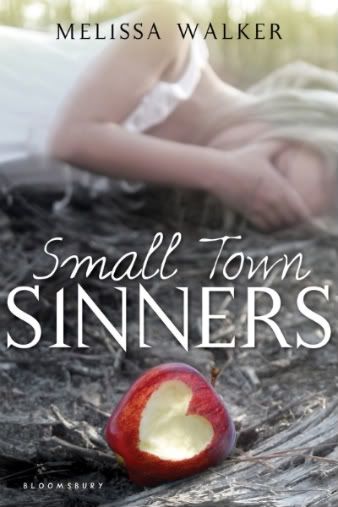 Small Town Sinners by Melissa Walker
Reading Level: Young Adult
Release Date: Available Now
Source: Received from publicist for honest review
Summary:
Lacey Anne Byer is a perennial good girl and lifelong member of the House of Enlightenment, the Evangelical church in her small town. With her driver's license in hand and the chance to try out for a lead role in Hell House, her church's annual haunted house of sin, Lacey's junior year is looking promising. But when a cute new stranger comes to town, something begins to stir inside her. Ty Davis doesn't know the sweet, shy Lacey Anne Byer everyone else does. With Ty, Lacey could reinvent herself. As her feelings for Ty make Lacey test her boundaries, events surrounding Hell House make her question her religion.
My Review:
Melissa Walker produced a novel that combines religion and controversial issues with a skillfully crafted approach. I normally don't read books that focus on religion, but there was something intensely special drawing me into the story. Lacey, the perfect daughter to a pious family, surprisingly captured my attention with her kind natured heart. Even though her life seemed sheltered and a little brainwashed by her overbearing father, I appreciated her natural sense of self. She never questioned her faith in God, even when she was presented with unexpected evil, thus helping me build a respect for her individuality.
Now, it wouldn't be fun without a cute boy. Ty, in my opinion, was the voice of reason throughout the chapters. Between the two, they learned a lot from each other. She made him into a better person while he taught her it's okay to question life and to stand up for what you believe in. Also, I really enjoyed the whole idea behind feeling comfortable enough to ask why, instead of just accepting it. All in all, the journey that Lacey goes through as a person was phenomenally written. I couldn't have ask for a better ending to a thought-provoking debut. I am curious to see what message Melissa will leave us with next.
Melissa Walker is a writer who has worked as ELLEgirl Features Editor and Seventeen Prom Editor. All in the name of journalism, she has spent 24 hours with male models and attended an elite finishing school for girls in New Zealand, among other hardships. She co-founded
I Heart Daily
with fellow ex-ELLEgirl Anne Ichikawa in 2009. It's a daily newsletter about likable stuff. Melissa lives in Brooklyn and has a BA in English from Vassar College. She would tell you her SAT scores too, but, you know, the math part was hard.

 She loves meeting teenagers, and is game to speak at your library or school about writing, books, fashion, magazines or pop culture (but, you know, in a smart way).
For more info on Melissa, visit her sites: