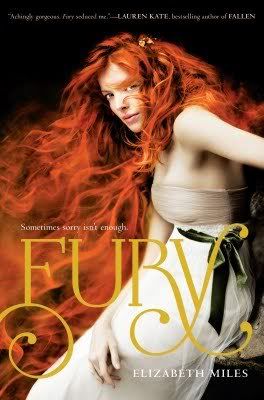 Fury (Fury, #1) by Elizabeth Miles

Reading Level: Young Adult
Release Date: August 30, 2011
Publisher: Simon Pulse
Pages: 384
Source: Received from publisher for honest review
Summary:
Sometimes sorry isn't enough....It's winter break in Ascension, Maine. The snow is falling and everything looks pristine and peaceful. But not all is as it seems...Between cozy traditions and parties with her friends, Emily loves the holidays. And this year's even better--the guy she's been into for months is finally noticing her. But Em knows if she starts things with him, there's no turning back. Because his girlfriend is Em's best friend.On the other side of town, Chase is having problems of his own. The stress of his home life is starting to take its toll, and his social life is unraveling. But that's nothing compared to what's really haunting him. Chase has done something cruel...something the perfect guy he pretends to be would never do. And it's only a matter of time before he's exposed.In Ascension, mistakes can be deadly. And three girls—three beautiful, mysterious girls—are here to choose who will pay. Em and Chase have been chosen.
My Review: Fury has one of those gorgeous covers that I'm sure will grab people's attention in bookstores. But, is the content worth it? I'm a bit on the fence with that one. Elizabeth Miles shows great showmanship skills through her engrossing writing. While the pace was slow at times, the curiosity in the developing plot overshadowed it. Moving on, with the exception of Emily's close friend, JD, none of the characters were likable. The rationality behind their decisions and overall display of humanity was sadly lacking. Emily, starts off as a decent individual, but then turns into a naïve girl that is blinded by one of the biggest douche bags I've ever encountered in YA.

I didn't really appreciate the fact that Emily decided to mess around with her best friend's boyfriend, but in this case it worked for the story. Especially since the Furies were in town looking to bring karma to someone. Once the Furies came into the picture, the novel picked up for the best. The intense anticipation helped boost the appeal I hoped for. Unfortunately, in my opinion, they should have entered the picture earlier. However, it is understandable why Elizabeth held out right until the end to bring the shock value. It definitely makes me want to pick up the sequel! In conclusion, it was a decent first installment. I believe the rest of the series will have a better direction with much more oomph that I felt Fury didn't have.

My Rating:
(3.5)
Book Trailer:
Author's Info:

Elizabeth Miles grew up in Chappaqua, New York, not far from New York City. She graduated from Boston University in 2004, and has worked ever since as a journalist for an alternative newsweekly. She has been honored by the New England Press Association and the Association of Alternative Newsweeklies. Elizabeth serves on the board of trustees of Portland Players, a community theater and second home. She loves pizza; she can often be found running around on stage while scantily clad; and a cold winter night in Maine is one of the creepiest and most beautiful things she can think of. Fury is Elizabeth's first novel.
For more info on Elizabeth, visit her sites: