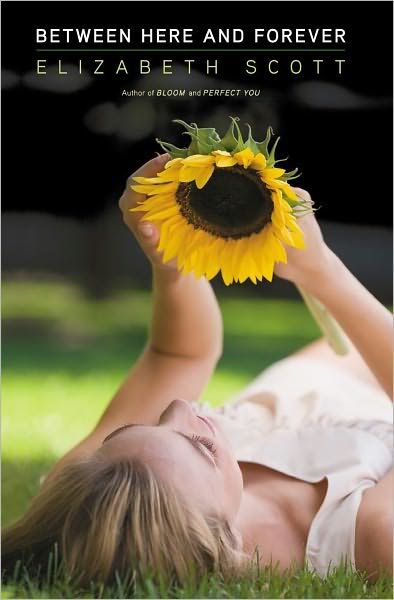 Between Here And Forever by Elizabeth Scott
Release Date: Available Now
Source: Received from publicist for honest review
Summary:
Abby accepted that she can't measure up to her beautiful, magnetic sister Tess a long time ago, and knows exactly what she is: Second best. Invisible. Until the accident. Now Tess is in a coma, and Abby's life is on hold. It may have been hard living with Tess, but it's nothing compared to living without her. She's got a plan to bring Tess back though, involving the gorgeous and mysterious Eli, but then Abby learns something about Tess, something that was always there, but that she'd never seen. Abby is about to find out that truth isn't always what you think it is, and that life holds more than she ever thought it could...
My Review:
Elizabeth Scott, is one of the sweetest authors I've come across. With a heart of gold, her stories shine with plots anyone could relate to.
In Between Here and Forever
, I met Abby, a girl whose existence was hidden behind her beautiful sister's shadow. Her constant insecurity stemmed from the feeling of never being good enough. I'd assume Abby would despise her sister, but she actually felt the opposite. The pure sincerity of Abby's actions following Tess's tragic accident, was touching. Every day she would visit her coma stricken sister, hoping for her to wake up. Luckily, Eli the mysterious yet good looking employee comes along who might have the key to Abby's wishes, just not the one she expected.
I really enjoyed Eli's persona around Abby, even though half the time she didn't think she was worthy of his attention. I disliked that trait about her, I had the urge many times of slapping her so she could wake up and see her awesomeness. But, in all honesty, I understand why Elizabeth created her character with flaws. It just wouldn't be the same in the end without her learning experiences. Another aspect of the novel I didn't expect surrounded Tess's hidden secret which was unraveled while Abby searched through her sister's past. Finally, the message throughout the plot was inspirational and could easily be connected with. Even though this is my first Elizabeth Scott novel, I am definitely going to read more of her works soon!
Elizabeth Scott is the author of Bloom, Perfect You, Something Maybe, The Unwritten Rule, and Living Dead Girl, among others. She lives outside Washington, D.C.