Blogger Fame is a meme that features a blogger once a week. I currently have a lot of entries, once it clears up, I'll add the link to join again.
Today's celebrity is . . .
Jessica from Confessions of a Bookaholic!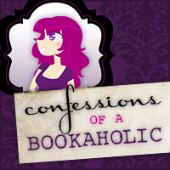 Location: Pigeon Forge, TN
1) Jessica, what inspired you to start your blog, Confessions of a Bookaholic?
JE:
I used to read a lot as a teenager and didn't have much time to as I got older and went to college. A few years ago I picked up Twilight and was hooked! I picked up more young adult novels,
Vampire Academy
,
Marked
(House of Night),
Evernight
, and couldn't stop reading. I talked to a friend who and she kept talking about book blogs and how they had great recommendations. I checked out a few and was amazed at the content they had. For my birthday last year I thought "maybe I can do that too!" and took the leap into blogging.
2) What's the meaning behind your blog title?
JE:
I thought about a title for a long time but the thing that kept coming to me was "Confessions of a Shopaholic". :) So I changed the word and poof, blog title! I hadn't been around the blogosphere long enough to know if that title was taken or not. I just took the chance and hoped people liked it.
3) What is the best and worst part about blogging?
JE:
The best part is talking to the authors. I have talked to so many authors that I knew of years ago and it still amazes me. I'm shocked if they write me or know my blog. I'm not sure I will ever get used to that. Plus, getting to read some of these great books before their release is pretty cool too. The worst part is just TIME. I am a full-time student and full-time mommy so it's hard to find the time to blog. I have actually scheduled Monday's as "blog days" and that seems to work sometimes. Recently that has become even more difficult because we just bought a house and are getting ready to move. But I do hope to have more time in the next few weeks.
4) Which is your favorite genre to review?
JE:
That's a hard one. When I started out I was a paranormal freak! I'd say 90% of what I read was some sort of paranormal YA. Now, I enjoy contemporary as well. I'd say those are tied because they are so different and so enjoyable.
5) What are your top five favorite books of all time?
JE:
Going too Far
by Jennifer Echols,
The Hunger Games
by Suzanne Collins,
Divergent
by Veronica Roth,
Fire
by Kristin Cashore, and
Perfect Chemistry
by Simone Elkeles.
6) Who is your favorite author? If you had the chance to meet them, what would you say?
JE:
Hmm, hard one! I do love Jennifer Echols and would probably lose my ability to speak if I met her. Same with Nancy Holder. She is amazingly sweet and I'd love to meet her one day. I would just hope that when I meet an author I'm able to know my name :) If I can do that I'll be happy, lol.
7) Do you have any quirks while you write your reviews?
JE:
Nope. I actually like it to be really quiet. One semi-odd thing is that I have to have the book I'm reviewing next to me. 9 out of 10 times I don't even open it to look up anything I might be forgetting but I still have to have it right here.
8) If you could make a fictional story come alive, which would you pick and why?
JE:
Even though it would be scary, probably
Divergent
by Veronica Roth. I'm always curious about the world around a dystopian book so I think it would be cool to see what that would be like.
9) Currently, which book cover(s) are you lusting over?
JE:
I recently got a copy of Starcrossed by Josephine Angelini and it is beautiful! The shimmer effect they used is so unique and really makes the book look different. The other is The Beginning of After by Jennifer Castle. I really love this cover!
10) Which type five blogs do you continually visit?
11) If you had to give advice to a newcomer, what would you tell them about blogging?
JE:
It isn't easy and to do a good job you really have to love what you are blogging about. Do a blog because you want to and don't let anyone else influence what you write about. It's your blog!
Do you consider yourself a book addict?

Oh yes! I think about books for a majority of the day. :)

Favorite guilty pleasure?

Sitting on the couch at night with a book in one hand and a jar of nutella in the other..ahhh!!

Favorite bookstore to shop in?

Locally we don't have many but I love to go to Books-a-Million just to browse around.

Judge book by cover or summary?

I know it's horrible, but I notice covers way more than the summary. If I see a beautiful cover I'm much more likely to add the book to goodreads, even if the summary doesn't grab my attention as much.

Favorite movie?

The Notebook :) I'm a hopeless romantic!

Which book do you recommend we all read?

Going too Far by Jennifer Echols. It may not be one that sticks out like some of the others but it is beyond amazing!

Describe yourself in three words?

Shy, procrastinator, organizer (normally!)

Favorite character you'd love to date?

Just one?! Four from Divergent, Hudson from Ten Things We Did (and Probably Shouldn't Have), Harlin from A Need So Beautiful, and John from Going too Far and lots more!!
:: WHERE THE BLOG MAGIC HAPPENS ::
"My blogging area. I'm always on the couch when I blog. I have my computer, earbuds, and book. All I need :)"
Thank you Jessica for this fun interview! I've been friends with her ever since I started blogging and she's not only a magnificent blogger, but a great person as well. So, make sure you hop on over to her blog, I promise you won't be disappointed!
Show blogger love by commenting, maybe you have common interests.
I'd love to hear it! :)